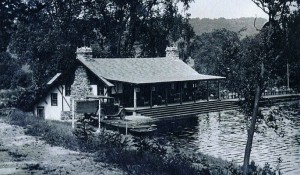 by Jim Terleph
Lake Katonah, like Katonah village, took its name from a 17th-century sachem of the Ramapo Indians, Chief Catoonah. His people, a sub-group of the Algonquian Nation, roamed this area freely. Our lake, which at that time was much smaller, would have been attractive to wildlife seeking fresh water and vegetation and thus a magnet for Ramapo hunters.
In the late 1600's their habitat began to be encroached on by Dutch colonists spreading northward up the Hudson Valley from what is now New York City. In 1697 the land that contains Lake Katonah became part of the manor of Stephanus Van Cortlandt, which stretched west to the Hudson River. When he died his holdings were divided among his children; our area passed to his daughter Gertrude Beekman. In the early 1700's settlers from New England began moving into our region, leasing and later purchasing land to farm.
With the onset of the Revolutionary War, armed combatants from both sides roamed the countryside. Tradition has it that George Washington set up a headquarters in Goldens Bridge to supervise his troops' withdrawal from White Plains. War's end brought more settlers to our area, clearing more land for farming and pasture; by the mid-19th century Edward Brady had built one of the largest cattle and dairy businesses in the county.
In 1926 the land developers Ward, Carpenter & Company, of White Plains, bought 125 acres here, including the lake, from the Brady estate. They dammed the lake, enlarging it from 8.5 acres to its present 26, laid out roads, subdivided the land into 20-by-100-foot lots, installed a water-supply system and, in 1927, built the clubhouse and several model homes. The original intention in 1928, when the community was incorporated as the Lake Katonah Club, was to market it as summer homes for New York City  residents, and by the mid-1930's there were 59 houses here.
But as the Depression deepened sales slacked off and all the LKC-held property went into trusteeship. By 1942, with the economy recovering because of war production, the club was able to purchase back its clubhouse, water system and roads. With the war's end came a housing shortage, and young families began buying lots to build year-round shelter.
It was not until the mid-1970's, however, that LKC neared housing saturation. In that decade the Town of Lewisboro took over the roads and installed underground drains and culverts, and the club and caretaker's house were enlarged, a second well sunk and new water towers installed. At that point the club largely resembled what we see today.